The sales increased 58.53% from the same period last year.
The operating income was approximately $60.22 million.
Net profit attributable to the listed company's shareholders is approximately $2.44 million, with basic earnings per share of $0.02.
The Aerospace & aviation, and industrial machinery accounted for 52.29% and 39.76% separately.
As of August 29, 2023,the market value of BLT is $2.51 billion.
      Based on the RMB/USD exchange rate on August 30, 2023
Xi'an Bright Laser Technologies Co., Ltd (Stock Code: 688333.SH), a pioneering company in the integrated solution provider for metal additive manufacturing supplier, today announces its financial results ended June 30, 2023, and the publication of its half-year financial report.
 The 2023 semi-annual performance report shows that BLT [Stock Code: 688333.SH] is maintaining a strong financial position. With an increase of 58.53% from the same period last year, the company's operating income was approximately $60.22 million, indicating growing demand for its high-quality and leading solutions.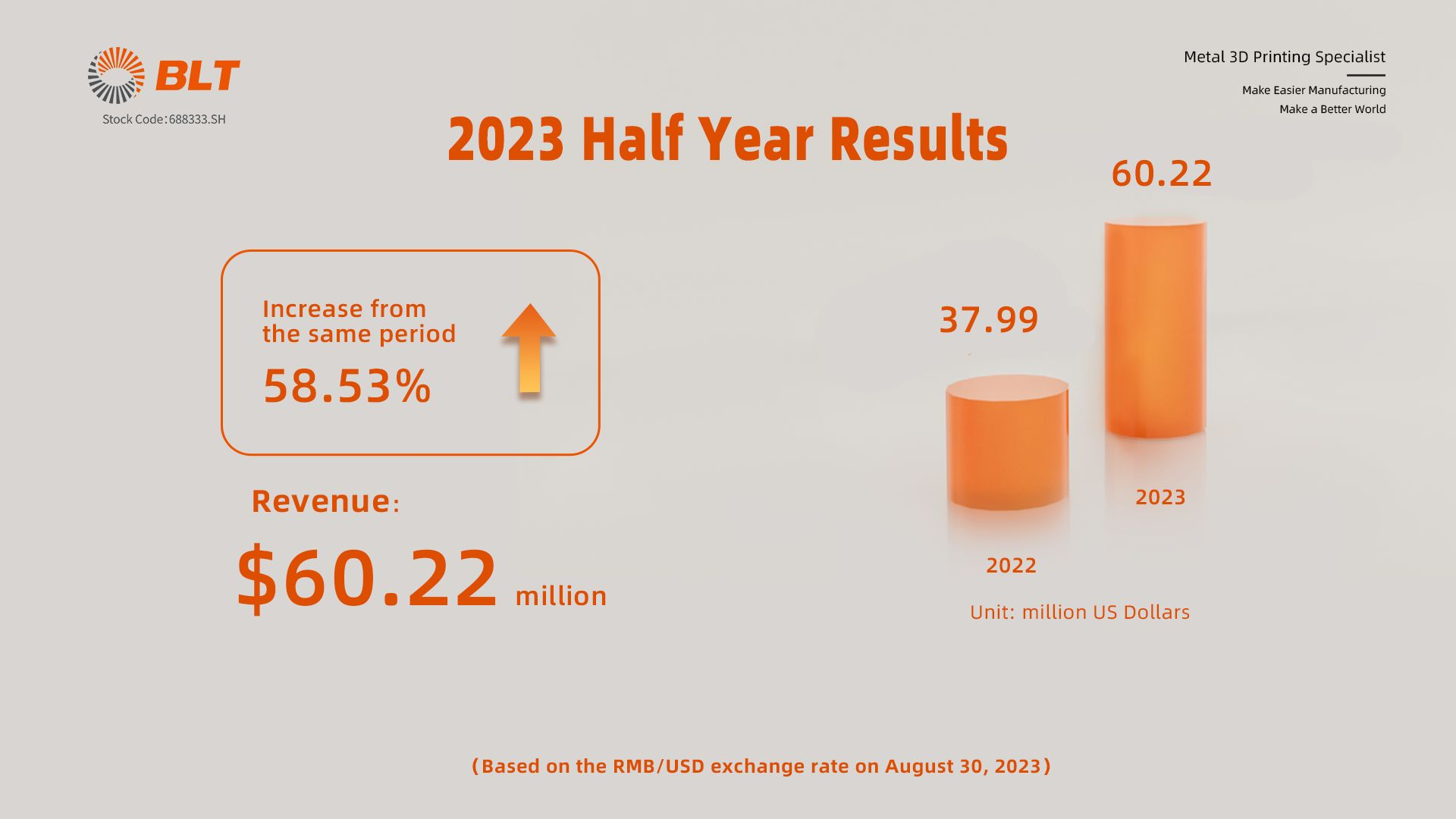 In the first half of 2023, BLT seized opportunities and overcame challenges, turning losses into profits. Net profit attributable to the listed company's shareholders is approximately $2.44 million, with basic earnings per share of $0.02. The net loss attributable to shareholders of the listed company in the same period of 2022 was approximately $5.34 million, with a basic loss per share of $0.07.
In the period from January to June 2023, BLT's revenue breakdown was as follows: aerospace and aviation accounted for 52.29%, industrial machinery accounted for 39.76%, research institutions accounted for 6.16%, medical research accounted for 1.78%, and other sectors accounted for 0.02%.
Deep Exploration In Aerospace & Aviation and Consumer Market
For 2023, BLT has a number of moves to boost capacity, meeting the global demand for additive manufacturing technologies.
In the Aerospace and Aviation sector, BLT has established a solid reputation with an impressive list of esteemed customers and partners. Among its main customers are various subsidiaries of renowned global aerospace giants. Moreover, the company is a trusted supplier of metal additive manufacturing services for Airbus, a prominent player in the global aviation industry. In 2023, BLT has already achieved a number of noteworthy successes in aerospace applications.
In March, Dongfang Space independently developed a supporting gas generator for the "Force-85" 100-ton liquid oxygen kerosene engine, which achieved a successful first test run and assessment. The "Force 85" engine adopts a pin bolt design and is the first 100-ton level liquid oxygen kerosene pin bolt gas generator engine in China. BLT participated in developing the "Force-85" engine and printed multiple key components such as the engine body blank and pin-type gas generator. The quality and performance of these components have a significant impact on the overall performance of the engine.
On March 1-2, 2023, Beijing Star Glory Space Technology Co., Ltd. successfully completed two semi-system joint tests of the 100-ton liquid oxygen methane rocket engine "JD-2" in real media. BLT assisted the development team in printing multiple pipeline and turbopump parts for the "JD-2" liquid engine, helping customers reduce costs and increase efficiency.
In July, BLT's Additive Manufacturing enabled the successful launch of the world's first liquid oxygen-methane rocket. During its development, the BLT team conducted a comprehensive analysis of the service conditions for a number of parts, selecting materials such as superalloys and stainless steel to meet the required mechanical properties. Parts were manufactured on machines such as the BLT-S310 and BLT-S400.
In the consumer market, BLT started the expansion of the shoe molding business as early as 2019 and recently established a strategic partnership with a large Sino-foreign joint venture shoe manufacturer to jointly promote the development of the application of metal 3D printing technology in the shoe-making industry. BLT provides metal 3D printing technology and high-end equipment for international brands our client produces. Besides, BLT also made some advancements in the electronics sector.
 More technologies made breakthroughs, marching toward an unmanned factory
As part of its vision to "Make Manufacturing Easier," BLT introduced the "Era of Mass Production" two years ago, with an emphasis on metal additive batch manufacturing. BLT aimed to lower the threshold of adopting this technology and bring metal 3D printing to millions of factories by adhering to the principle of "make it possible, make it affordable", making the benefits of cost reduction and efficiency of 3D printing tangible for manufacturers.
In March, BLT upgraded the BLT-BP2.0, The new version of BLT-Build Planner further improves the software's profiling efficiency, printing efficiency, and ease of use, providing users with an efficiency-enhancing and cost-saving print path planning solution. The new version of BLT-Build Planner, especially optimized and upgraded in the process planning of multi-laser metal additive manufacturing equipment, will further stimulate the high-efficiency printing advantages of multi-laser metal additive manufacturing equipment, and reduce costs and increase efficiency for the additive manufacturing of large-quantity, large-size, and complex structural parts.
In June, BLT officially launched the Powder recovery system. Powder recovery is of vital importance for mass production processes. The BLT-A400's new powder recovery system ensures the safe transfer, recovery, sieving, and reuse of metal powders within an on-site test laboratory. This system facilitates the seamless and secure transfer of large volumes of 3D printing powders from containers to multiple machines, eliminating the risk of spillage, contamination, explosion, or contact with workers. BLT provides multiple equipment powder recovery solutions for different production scenarios. This system empowers manufacturers to meet their production needs while achieving substantial savings in operational costs.
In July, BLT launched the Tungsten Carbide Additive Manufacturing forming process in early 2023. This revolutionary method addresses the manufacturing obstacles associated with tungsten steel components featuring intricate structures, a challenge often encountered with conventional techniques. BLT has embraced an additive manufacturing process dedicated to tungsten carbide production to surmount this challenge. This innovative approach serves as a remedy for the prevalent issue of crack defects, presenting a particularly advantageous solution for fabricating intricate structures like flow channels and nozzles.
BLT officially launched the intelligent production line management system MES 2.0, which realizes for the first time the material additive manufacturing field's planning and execution data IoT, and provides end-to-end digital manufacturing solutions, such as product management, project planning, intelligent scheduling, manufacturing execution, data IoT, statistical kanban, online reports, etc., to digitally empower metal additive manufacturing in the "Mass-production era". BLT-MES 2.0 provides end-to-end digital manufacturing solutions for metal additive manufacturing in the "Mass Production Era", including product management, project planning, intelligent scheduling, manufacturing execution, data linkage, statistical kanban, and online reporting.
Launched a variety of new machines and systems, meeting the needs of different build dimensions and multiple lasers
In June, in response to the changing production needs of our customers, BLT launched BLT-S615, a new platform for the mass production of large-size parts. BLT-S615 system can be equipped with a 4-laser or 6-laser configuration, with two optional configurations, respectively, 600mm × 600mm × 1500mm and 650mm × 650mm × 1300mm, the Z-axis molding height increased to 1.5 meters, to meet the needs of different areas of customers with large-size parts mass production. The height of the whole machine can be controlled to meet the installation conditions of most users' plants.
In July, BLT released BLT-A400 (5-laser, build dimension 400 mm×300 mm×400 mm), a platform for mass production of small and medium size parts.
In the last half of the year, BLT will launch BLT-S450(8 lasers, build dimension 400mm x300mmX400mm) and BLT-S400 (6 lasers, build dimension 450mm x450mmx500mm), meeting the demand for multiple lasers in small format, and improving the average output efficiency of the plant, and reduces total operating costs.
It is said that BLT will launch the 20-laser system and more laser systems for larger parts.
Expanding the capacity to continue strong growth
In 2023, BLT has continued to expand its production capacity and continue to build the strong additive manufacturing ecosystem, providing the turnkey solutions to manufacturers. Its commitment to innovation, exceptional technological strength, and strategic market focus have paved the way for its impressive growth and success.
In May, BLT officially broke ground on its Phase IV facilities expansion project in Xi'an, China. Upon completion of Phase IV in 2025, BLT's headquarters will reach a size of 410,000㎡.
Phase IV marks that BLT has entered a new historical stage, significantly expanding the production capacity of metal 3D printing powders and customized product printing services in aerospace and other applications, actively promoting the upgrading of China's traditional industrial system, joining global industrial giants to push the boundaries of innovation in the manufacturing sector.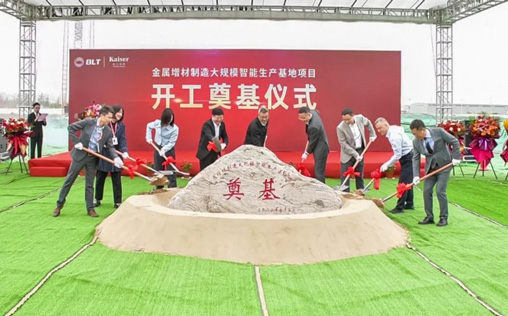 In June, BLT opened its new R&D Center in Shanghai. BLT's Shanghai R&D Center emphasizes on electronics, smart devices, industrial machinery, civil drones, commercial aerospace, molds, new energy, and robotics applications.
The official opening will further enhance BLT's application development capabilities in the East China region, promote in-depth exchanges with users, and mark an important step in further developing BLT's R&D and innovation capabilities, leading the manufacturing industry to upgrade and innovate, making manufacturing easier.